Thanks to the collaboration between the Fondazione Musei Civici di Venezia and the Google Cultural Institute, the Glass Museum in Murano is now part of Google Art Project: an online platform through which the public around the world can access high-resolution images of works of art in the collections of museums partners in the initiative, with the goal of democratizing access to culture and to promote its preservation for future generations.
For the Glass Museum are uploaded 54 high resolution images of some of the most representative works of the collection and the museum display. The images of these works accompany the visitor into a "journey" through the history of glass, virtually reinventing the wonderful collection of archaeological glass from those of the 2nd century b.C. the famous Coppa Barovier of the 15th century, to the more recent contemporary creations. Among these, the most important creations of the master glassmaker Pietro Bigaglia who worked between 1700 and 1800, the beautiful pieces of murrino glass, blown glass and mosaic glass made ​​from 1500 to the present for the manufactures of Franchini, Salviati and Barovier, up to the modern design of the Seguso, Venini and Fratelli Toso glassworks.
Visitors to the Art Project platform can browse the works based on the name of the artist, the title, the type of art, the museum, the country, or the period of time, appreciating these masterpieces in their total beauty allowed to see even the most accurate detail. Among the features available, 'My Gallery' allows users to save specific views of selected artworks and build their own personal gallery. Comments can be added to each painting and the whole gallery can be shared with friends on social networks. Also, 'Compare' allows people to examine two works of art 'side by side' in the same screen to look more closely at how the style of an artist has evolved over time, or connect his artistic trends, or look deep into two details of a same work.
EXPLORE THE GLASS MUSEUM ON GOOGLE ART PROJECT >>>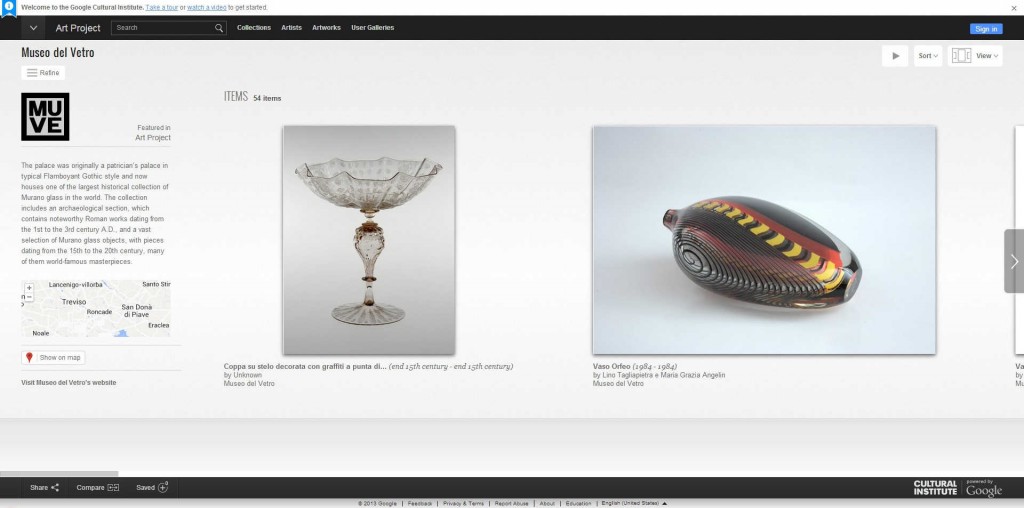 DISCOVER ALSO THE MUSEO CORRER ON GOOGLE ART PROJECT >>>